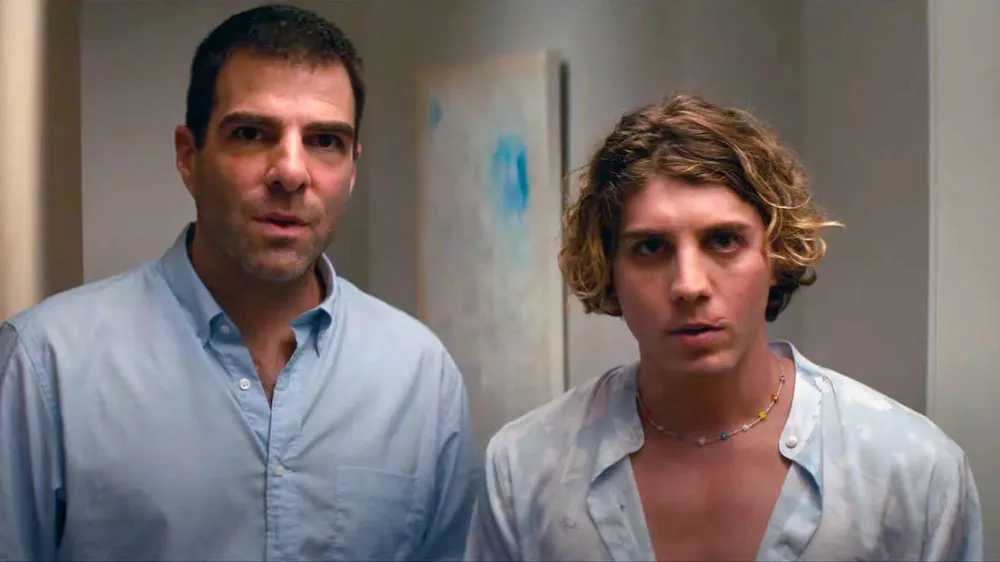 Watch: Lukas Gage and Zachary Quinto in New Trailer for Dark Queer Comedy 'Down Low'
Lukas Gage is on his way to stardom. For proof, just watch his gonzo turn in the terrific eco-thriller "How to Blow Up a Pipeline," in which he plays a thrill-seeking activist who is part of team out to do exactly what the title suggests. (While it has a 94% rating on Rotten Tomatoes, some objected to the film making heroes of its law-breaking protagonists.)
Up next for Gage is "Down Low," a dark and very queer comedy that premiered earlier this year at South by Southwest to some notice and is scheduled for a streaming release on October 10.
The new trailer gives a glimpse at what promises to be a wild ride. Gage plays Cameron, a sex worker hired by Gary (Zachary Quinto), a recently divorced man, to help him with his first same-sex experience. "Cameron is out, proud, and very loud about it, which proves the perfect foil to Gary's straight-laced fears of breaking the mold he poured himself into as a married Catholic family man," writes Maggie Lovitt in her Collider review. "Together, the unlikely duo forges a connection that – unintentionally – destroys a number of lives in the process. Literally. Somehow, 'Down Low' manages to turn accidental manslaughter into a comedy of errors and necrophilia into a very amusing comedic beat."
Gage also co-wrote the script with Phoebe Fisher. The film marks the directorial debut of Rightor Doyle. It features a stellar cast – Sebastian Arroyo, Judith Light, Simon Rex, and Audra McDonald.
"'Down Low' is at its best when Quinto and Gage are bouncing off each other's wildly conflicting personalities and playing into the screwball of it all," adds Lovitt. "If you set aside the story that plays out in the undercurrents of 'Down Low' – the poignant, albeit heartbreaking story of self-discovery that comes almost too late – and focus on the outlandish, brash, and delightful hijinks audiences will certainly have a blast with this one."
Watch the trailer:
In November, 2020 Gage made headlines when a clip of him being interviewed for a job via Zoom in which a director derided Gage's West Hollywood apartment went viral. The director – Tristram Shapeero – made his comment thinking he was muted. Gage shot back on social media: "Psa if you're a shit-talking director make sure to mute ur shit on zoom meetings." He added: "I know it's a shitty apartment. That's why give me this job so I can get a better one."
Whether Gage got the role or not is not known, but he did land a part that again put him in the headlines. On the first season of "The White Lotus" he played a hotel employee who is caught being rimmed by his boss, played by Murray Bartlett. Gage then went on to become something of the poster boy for the sexual practice by talking it up on "Watch What Happens Live," telling host Andy Cohen he had come up with the idea for the scene. "It was my idea," Gage told Cohen. "Yeah, I thought we should normalize rimming.... I think that, like, ass eating needs to be talked about more. In the script it was sex, and I – we've seen sex on TV, let's have some ass eating."
Earlier this year he was rumored to be dating Chris Appleton, one of Hollywood's most sought-after hair stylists, which led to speculation about his sexuality. The relationship was confirmed on "The Drew Barrymore Show" by Appleton. The couple married in April, which they confirmed via Instagram.
Check out these pics from Gage's Instagram:
---