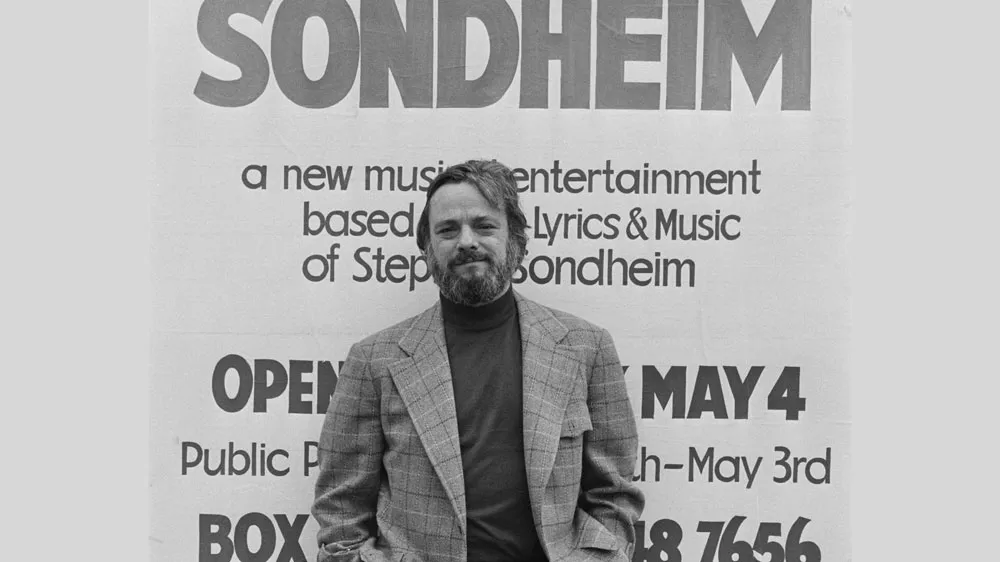 'By The Sea' with Stephen Sondheim at CabaretFest Provincetown
On November 26, 2021, Broadway composer/lyricist and musical theater titan Stephen Sondheim passed away at the age of 91, having been one of the most influential and provocative contributors to musical theater for the last half of the 20th century and the early 21st century. After his death, tribute after tribute poured in. One such tribute is the upcoming weeklong CabaretFest Provincetown 2023, whose theme this year will be "Sondheim by the Sea: A Celebration of His Musical Life & Work" from June 5-11 at the Crown & Anchor's Cabaret Room and Paramount Room.
Artistic Director and Producer Patricia Fitzpatrick has invited dozens of cabaret performers from New York, greater Boston, New England, and Provincetown to present shows, give master classes, and host open mics. Four of the event's headliners, Meg Flather, Karen Mack, David Rhodes and Ray DeForest (aka Doris Dear) ponder why Sondheim casts such a spell on so many, and how they plan to share their own unique takes on the bard. Though DeForest teases, "It's an awful lot of Sondheim in a week. People may end up divorced or in a dark room somewhere."
Sondheim's career stretched from the 1950s to today, where there is currently a much-acclaimed revival of "Sweeney Todd" playing on Broadway. This follows successful revivals of "Into the Woods" and "Company" the past few seasons. And though some of his shows flopped ("Anyone Can Whistle," "Merrily We Roll Along); or others, such as "Follies" and "Sunday in the Park with George," were not fully understood until well after their premieres; his influence can never be fully appreciated. A recent revival of "Merrily" sold out at the New York Theater Workshop and heads to Broadway in the fall with its starry cast (Jonathan Groff, Daniel Radcliffe, and Lindsay Mendez) intact.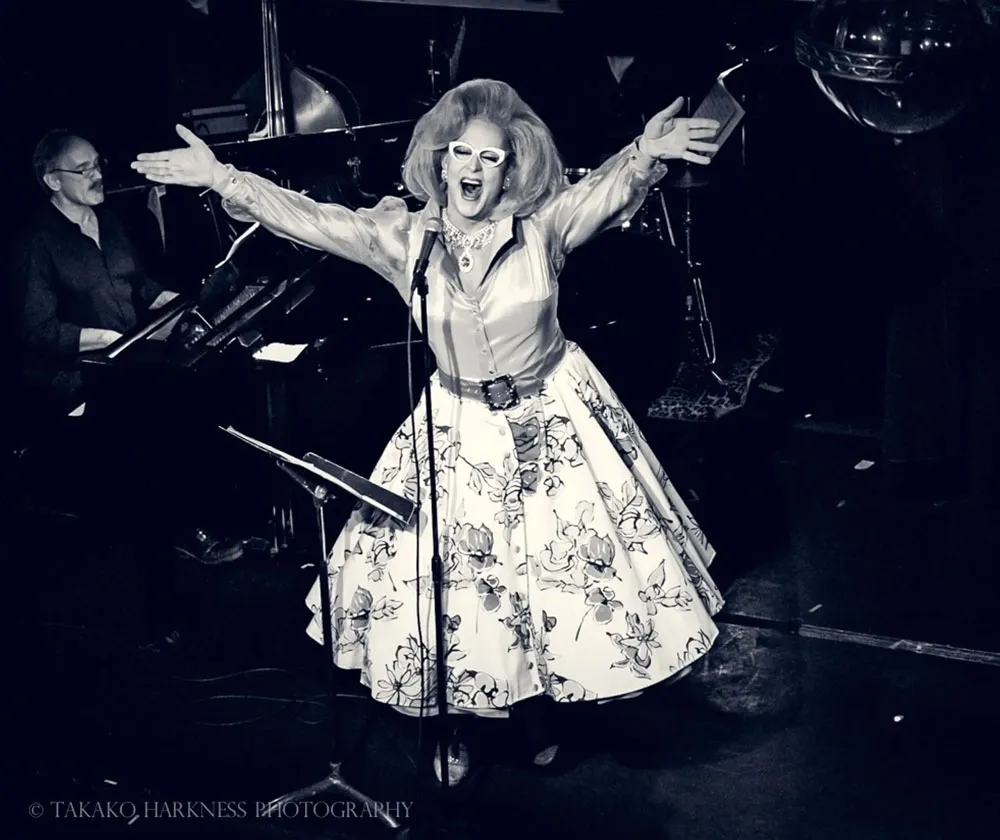 Meet the Performers
Ray DeForest, whose alter ego Doris Dear hosts "Gurl Talk" on Broadway on Demand, where Doris interviews Broadway performers. says that the original Broadway production of "Company" was one of the first Sondheim shows he'd seen. "I see so much of my parents in some of those characters," reminisces DeForest, "though Joanne in 'Company' is part of Doris." DeForest models Doris Dear, who declares herself as "America's Perfect Housewife," after his own mother. "Doris is a nicer version of Ray," admits DeForest. "She looks at life through rose-colored glasses. She likes to see the good in people. 'Gurl Talk' for Broadway on Demand celebrates the art of musical theater and the connection of art to family, whether it be our biological or chosen families––and that creates life for us."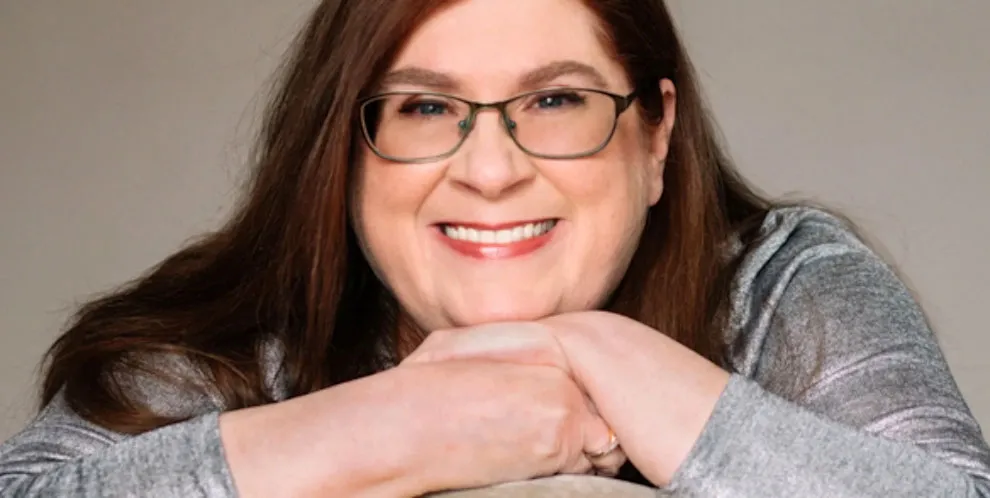 Karen Mack, growing up in Wilkes-Barre, PA, was immersed in musical theater, it wasn't until college when she saw her first Sondheim shows, "Sunday in the Park with George" and "Into the Woods," the latter of which is her favorite Sondheim show. "Seeing his shows was the first time I went to see musical theater pieces where I could close my eyes and I could still get all the emotion and mix of tension and release––even without the visuals––which is remarkable. How lush and dense his songs are," marvels Mack. "It made me think about how I could write and record songs, to see how much of that live communication I could convey without visuals."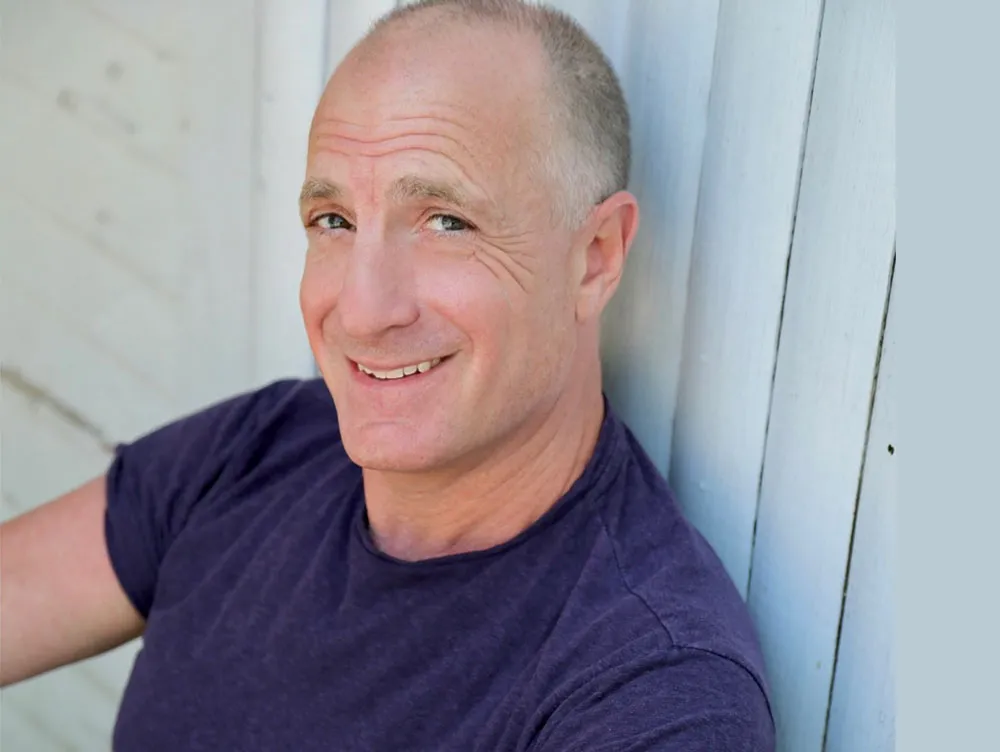 For David Rhodes, "Sunday in the Park with George" has had a profound impact on his life, particularly identifying with the painter George; so much so that his show in Provincetown will focus on that very aspect. "My show is about being an artist and the compulsion we feel to create despite the impracticality and struggles that go along with that lifestyle," remarks Rhodes. "How it isn't a choice we make but it's part of our DNA and something we need to do for our survival and mental health because it gives our life purpose. No one knew this or wrote about the artist's passion or process better than Sondheim." Rhodes feels privileged to work on this show with musical director Tracy Stark and director James Beaman, "who have lovingly nurtured my vision," notes Rhodes, "and know that art isn't easy, but putting it together is always a worthwhile pursuit."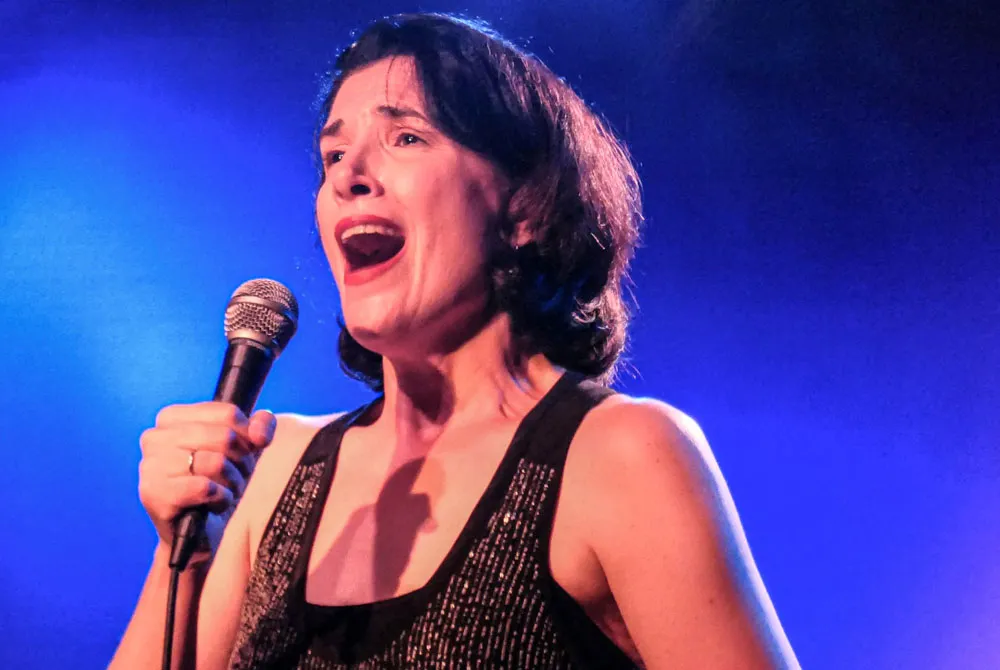 Meg Flather, a four-time MAC Award winner and two-time Bistro Award winner, whose Rodgers and Hammerstein show was the toast of last year's CabaretFest Provincetown, will take her interest in that team and merge it with this year's Sondheim theme in her show, "Hammerstein and Sondheim: Carefully Taught." Anyone knowing of Sondheim's career is aware of his special relationship with Hammerstein, who became his mentor and helped shape his musical theater consciousness After his parents' divorce, Sondheim, only 12 at the time, moved with his mother to Doylestown, PA, next door to the Hammersteins, where he became fast friends with Hammerstein's son Jamie, and began to hang out at the Hammersteins' home, where Oscar took him under his wing.
"The fact that Sondheim wrote music at all was a testament to Hammerstein's influence on the young and impressionable Sondheim. Later in his life, Sondheim said that if Oscar had been an archeologist, Sondheim would have become an archeologist. But that first summer, Hammerstein taught Sondheim how to write songs," notes Flather. "The following year, 'Oklahoma!' opened on Broadway, and Sondheim got to see firsthand what Hammerstein had been teaching him about how to write songs for musical theater––how songs have to help tell the story; propel the plot."
Though many may view Hammerstein and Sondheim as polar opposites in their world views (at least), Flather explores their commonality through musical juxtapositions. "I pair their songs, and you will see the common themes are strong, the longing to tell the true story," explains Flather. "When you put them together, there is a longing, a melancholy." However, Flather acknowledges the differences in their songwriting approach, attributing them to a generational divide. "Hammerstein was writing during World War II, and veterans didn't want their norms challenged," Flather explains. "His shows needed to have a happy ending to sell tickets. The original ending to "Oklahoma!" was not happy, and Rodgers and Hammerstein were asked by the producers to change it. Sondheim came of age in a very different era: Vietnam protests, free love, questioning norms. Once these principles were imbedded in society, then Broadway could follow."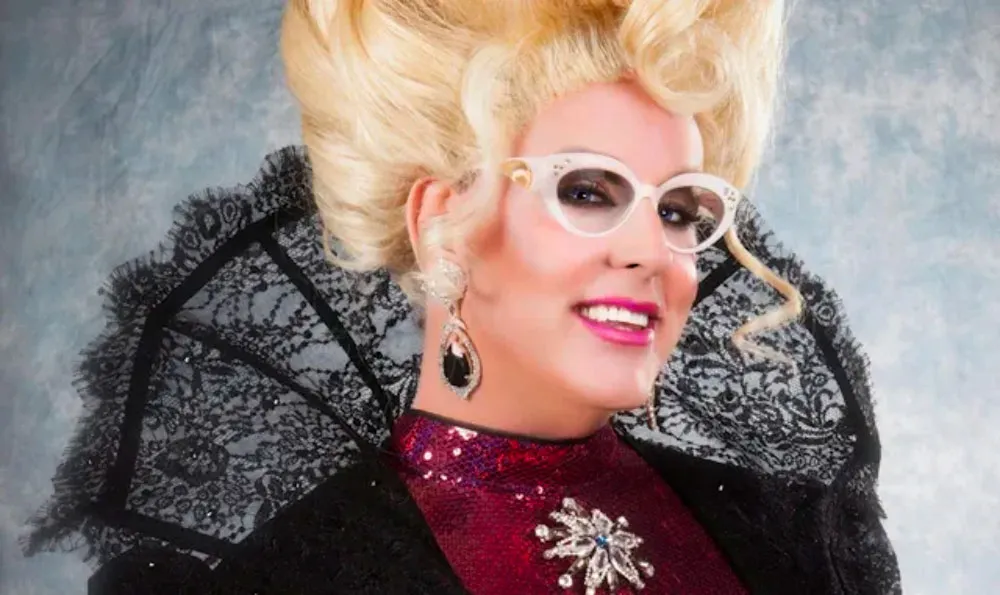 Doris Dear's show is called "Slightly Sondheim" because, "originally, I wasn't sure how much Sondheim would turn up in the show," admits DeForest. "You see, I write the story first, then pick the songs that help tell the story. But after writing my story I realized there were more Sondheim songs than I thought that will help Doris Dear tell her story. Sondheim has such a large library of music that is classic to musical comedy, and Doris Dear loves musical comedy. But songs are included to help her advance a story because Doris Dear is a storyteller."
Mack, an 11-time MAC Award winner, teams up with her musical partner Elliot Roth for their show "Sondheim...with a Twist." BistroAwards.com declared, "They are both seasoned pros... warm and witty, with nothing forced or trite... they offer a smart, sophisticated, intriguing collection of songs with Roth's superb piano underscoring his and Mack's smooth, supple, beautifully phrased vocals."
"For us, the twist is that even though we both come from a theater background and work on theater projects, we aren't really theater people," describes Mack. "We live in a jazz pop world, so we use a variety of arranging styles so you might hear a tune a little differently, and we are telling our own story, but through familiar Sondheim, and some lesser-known Sondheim."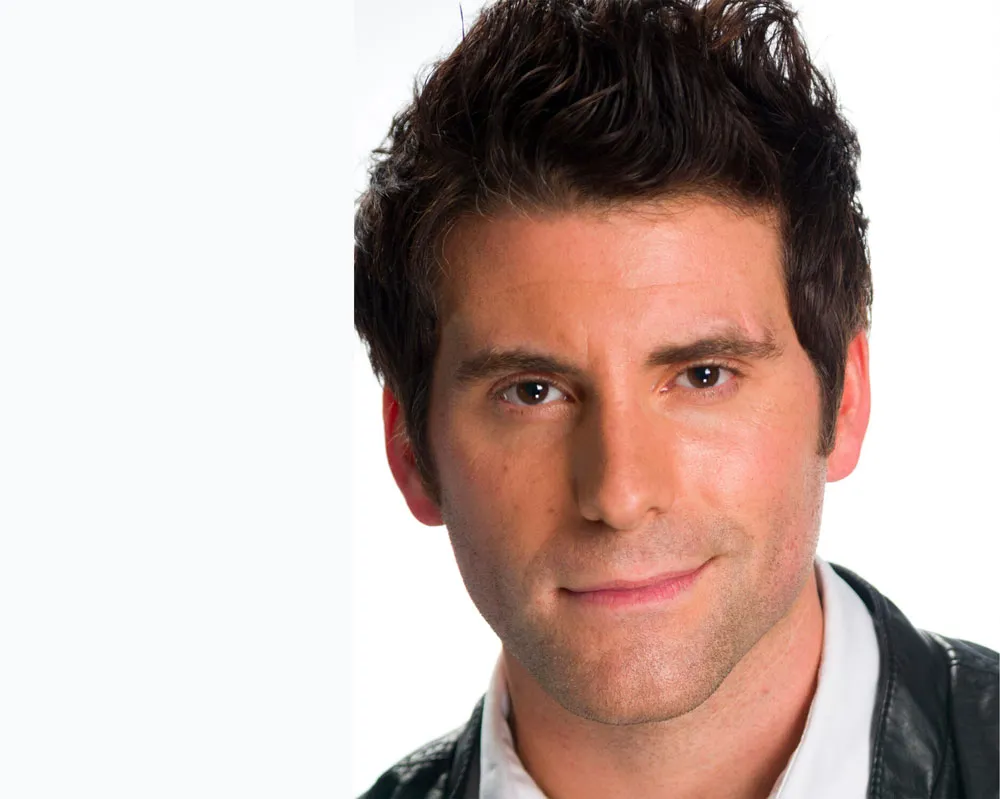 Mack and Roth have been in residency for the past year at Manhattan's Pangea, but their bond began during the pandemic. Roth, being musical director for the group "Mama's Boys," and Mack, with her own singing group "Those Girls" were both out of work during the pandemic. To stay fresh and active, Mark and Roth began chatting regularly over the phone or via Zoom, then texting links to great songs, and sharing songwriting ideas. Then, when they could, they got together in person, talking about how they could team up and do something different. They began looking at songs from shows with characters they would never be cast as, or gender-swapping songs, all of which filtered into their Sondheim show.
For many, Sondheim is an acquired taste, and yet his work endures. Flather says, "There is something somewhere that will make you love a Sondheim song: reunions; vengeance over being done wrong; the giant is everywhere in our lives." Rhodes adds, "He's relentlessly honest in his vision. Even if his vision is not consistent with the current zeitgeist, culture catches up and appreciates him in retrospect." Deforest confesses that Sondheim hasn't shown up much as a topic in Doris Dear's "Gurl Talk" shows, but now thinks that will change. "After putting this show together, I feel a connection to his music, and a lot of his themes do fit my storytelling, so in the future he's going to have to be part of Doris Dear's show."
Joining these four performers are among the several dozen performers, including Michael Garin & Mardie Millit, Jo Brisbane, Warren Shein, and many others, all of whom will present many sides of Sondheim during CabaretFest and show why his work lives on. "He writes really 'charged' songs. He really connects with human emotion––what we've all been through," muses Mack. "People find in his stories the people they used to be, want to be, or are."
Karen Mack and Elliot Roth will perform "Sondheim...with a Twist" on Friday, June 9, 6 PM. David Rhodes will perform "Does Anyone Still Finish...A Hat? A Musical Musing on Life" on Saturday, June 10, 2:30 PM.
Meg Flather will perform Hammerstine & Sondheim: Carefully Taught" on Saturday, June 10, 4 PM.
The above shows will be performed at the Cabaret Room at Crown & Anchor, 247 Commercial Street, Provincetown, MA. Tickets, $30 or VIP/VIP Plus Pass.
Ray Deforest "Doris Dear" will perform "Slightly Sondheim" onThursday, June 8, at 7:30 PM at the Paramount Room at the Crown & Anchor, 247 Commercial Street, Provincetown, MA. Tickets, $30 or VIP/VIP Plus Pass. For Tickets, visit: https://www.provincetowncabaretfest.com/tickets
---
John Amodeo is a free lance writer living in the Boston streetcar suburb of Dorchester with his husband of 23 years. He has covered cabaret for Bay Windows and Theatermania.com, and is the Boston correspondent for Cabaret Scenes Magazine.