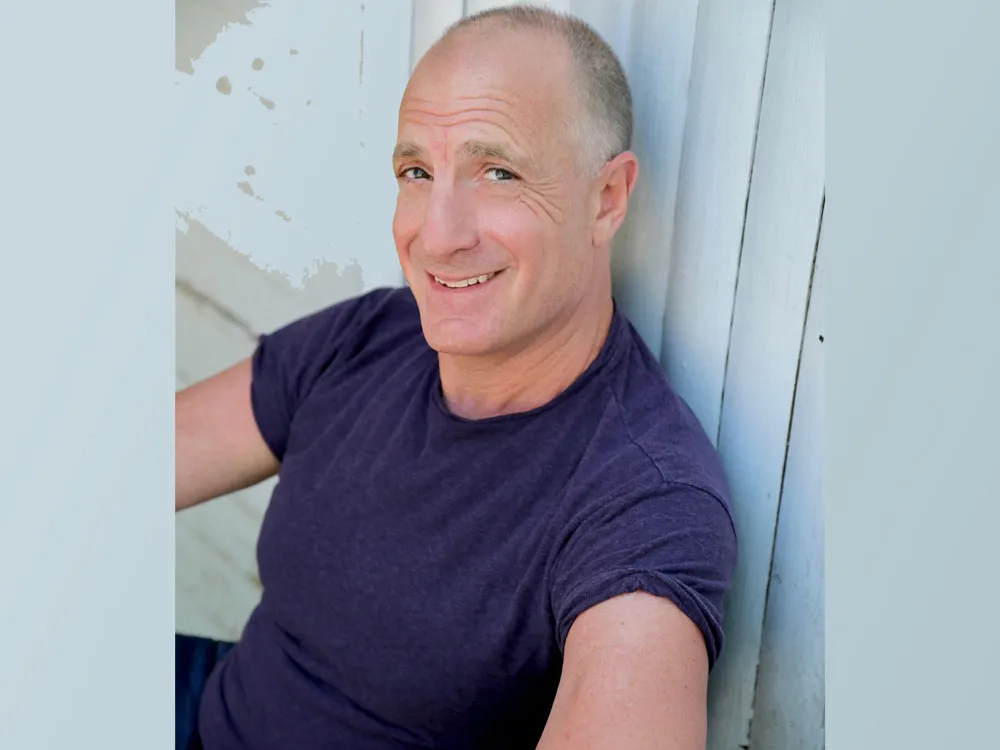 David Rhodes Shakes Up Cabaret with 'Rhodes Less Traveled'
"My well-intentioned parents had me in therapy from the time I was in 3rd grade, because they had recognized certain tendencies," discloses actor/solo performer/playwright David Rhodes. "So, I didn't come out until I was in my 40s." This experience became the foundation for a series of one-man shows Rhodes wrote for himself to perform that began with "Rites of Privacy," where Rhodes played a series of diverse and unique characters who "divulge deeply suppressed secrets, alternating them with candid stories from his own personal experience." It premiered in August 2012 at Urban Stages Theater in Manhattan, and then opened in London at the New End Theatre, both runs receiving rave reviews. The British Theatre Guide encouraged, "Spend ninety minutes in the charming company of David Rhodes, invest in the power of words, and allow your own secret heart a little dance of liberation."
But it didn't stop there. Rhodes had more to say and decided to strip away the fictitious characters and focus on his own life experience, which he offers up in his current show, "Rhodes Less Traveled." "Like everyone, I have a story to tell, and as an artist, telling our story honestly is the best gift any performer can give to an audience," asserts Rhodes. "Even though the story is unique to me, the story of love, family, and adaptability are all relatable on some level."
"Rhodes Less Traveled" debuted at the Triad Theater in Manhattan in November 2021, ran at the Always Lounge and Cabaret in New Orleans shortly thereafter, and then sailed across the Atlantic to open in London at the Crazy Coqs Cabaret in September 2022, all to sold out houses. Rhodes calls it "a journey from self-denial to self-discovery." BroadwayWorld.com calls it "Well structured and effective, and Rhodes gets all his points across using his own words as they swim in, out and around Stephen Sondheim, Simon and Garfunkle, Olivia Newton John, Harry Nilsson, Kiss, John Bucchino and a few other recognizable songwriters." Rhodes brought it to last year's CabaretFest Provincetown and was so well received there that he is now bringing the show to the Club Café's Moonshine Room on Saturday, May 6.
"The songs came first," Rhodes says, though he needs to clarify. "I did not start out in musical theater. I was classically trained in London, with a successful career in theater, film, and television. I had done a few contract musicals, like the National Tour of 'Peter Pan' with Cathy Rigby. I also did a tour of 'Grease' starring Beth Leavel and Danny Burstein starting at the MUNI. But I didn't think of myself as a musical theater actor."
And yet, musical theater was what ushered him into a life of performing. Born and bred in Manhattan, Rhodes was exposed to theater early on when his parents took him at the age of five to see the original Broadway production of "Man of La Mancha" starring Richard Kiley and Joan Deiner. "It was the first time I had seen a leading female character who wasn't a princess or witch," says Rhodes. "So, I realized I wanted to be a singer. I started taking voice lessons from the best teachers in Manhattan even though from my point of view the pool of singers I knew in New York were way out of my league."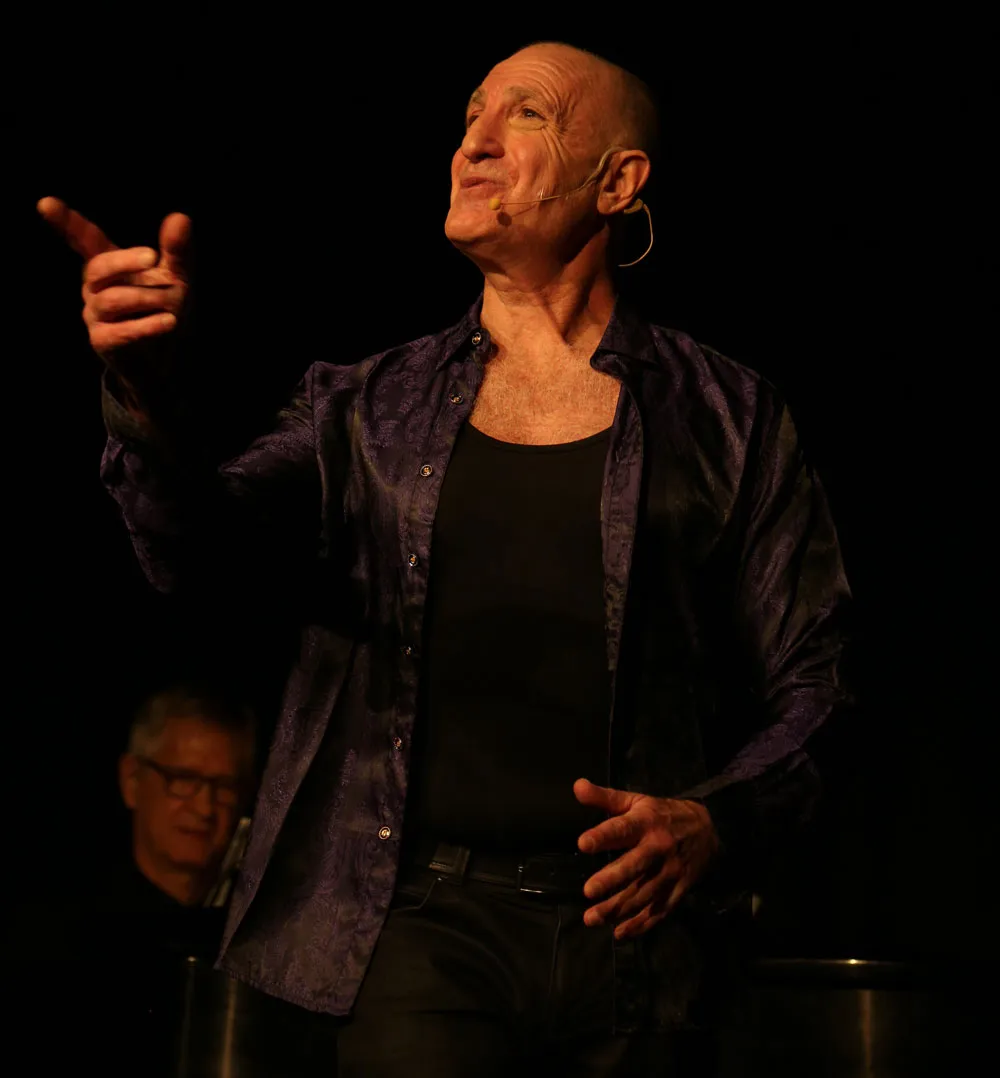 Nevertheless, Rhodes worked hard, and built up an eclectic repertoire, while on a parallel track began a career as an actor in dramatic roles, as well as dabbling as a playwright. In 2015, his first full length play, "Consent" premiered at the Roundabout, which Rhodes also directed. But the singer in him still yearned to come out. He had five years of accumulating a vast eclectic trunk of songs and was ready to sing. However, "I wasn't sure how to organize these songs into an evening," admits Rhodes. "I found that there were aspects of each song, since I had chosen to learn them, that were relatable to my personal life. So, I wove my story in and out of the songs I was already working with."
To tie the story and songs together, Rhodes hired a recent New York Musical Theater Writing Program graduate David Kornfeld to write original underscoring for all the monologues, thus making "Rhodes Less Traveled" a piece that has music running through it continuously from beginning to end, during and between songs. Kornfeld also wrote unique arrangements for many of the songs, giving them a fresh sound. Rhodes began working with classical pianist Melville Brown, who has been Rhodes' primary accompanist for the show and will do the show with Rhodes in Boston.
"The show was originally to have premiered at Triad, NY in June 2020, and we all know what happened that March," laments Rhodes. "So, I spent a year in isolation in my apartment, refining the show, and really getting the show into my body organically, which was a gift in the long run." As the pandemic began to resolve, and because the monologues and songs are all about storytelling, Rhodes brought in director Adam Sarett to help give the show shape. "Adam, Mel and I are the dynamic trio!" Rhodes exclaims.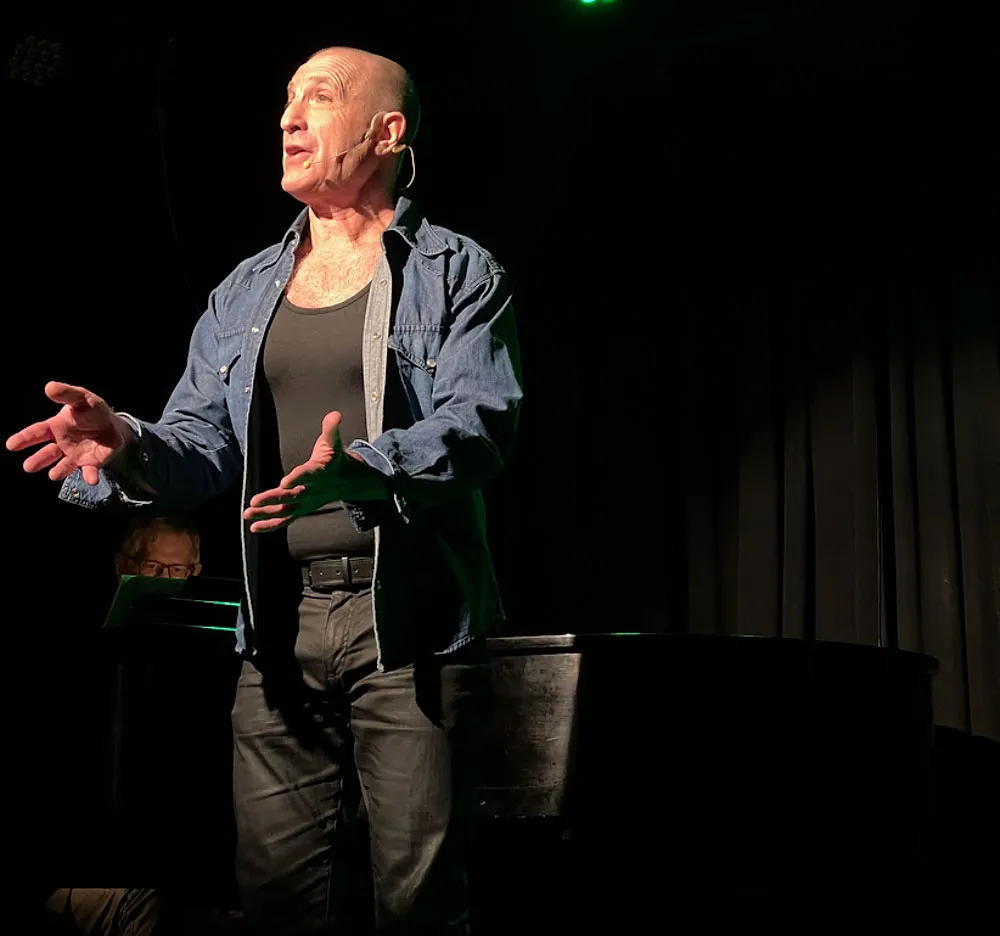 After the show finally opened at the Triad in 2021, it went to New Orleans, Provincetown, and Rhodes was delighted to bring it to London last September. "London is my second home," Rhodes says, "where I was trained at the London Academy of Music and Dramatic Arts (LAMDA), and I was the only American in the class."
"The show has a somewhat Brechtian feel," Rhodes explains, which is not surprising since Bertolt Brecht is one of his major influences, among many others. "Shakespeare, without a question. Chekhov and Ibsen, and the work of Stanislavsky," Rhodes rattles off. "I feel truly blessed to have had classical conservatory training for 3 years, where all of this was made available to me in a normalizing way. This is what theater is. Also, at 19, I was the first boy to perform Alan Strang in "Equus," after it closed on Broadway and performed in regional theater. To have an opportunity to play such a powerful and provocative role at such an early age set the stage for a type of theater that had edge and was provocative."
Rhodes enjoys the transition from theater to performing in a cabaret setting. "The intimacy of the cabaret venue reminded me of the studio theaters in which I had been performing at school and in London," Rhodes says. "And the opportunity to break the fourth wall, and to speak to the audience as one might in their living room creates a symbiotic relationship, a give and take with the audience, that you can't experience in a dark room with a fourth wall." But Rhodes likes to distinguish his show from what is more conventionally thought of as cabaret. "My show is more of the Weimar-type of cabaret from Berlin, and maybe a touch of vaudeville. It doesn't have to be a chanteuse/chanteur in a gown or a tux interpreting the Great American Song book."
Unconventional might be the best way to sum up Rhodes. He has a self-described "blended family," that involves many kinds of relationships that he handles with care and aplomb. One of those is his boyfriend of seven years, Jake, who self-identifies as genderfluid, and may appear on David's arm as often as not in an elegant evening gown, pearls, and elbow-length gloves. "Jake is not afraid to express his feminine side," Rhodes says, "and that has allowed me to get more in touch with my own femininity."
His many different relationships get discussed within the show. "One of them is something that women identify with and can be threatening to some gay men, because we don't conform to a conventional understanding of relationships and sexuality," professes Rhodes. "I'm doing a mitzvah in a way by telling my story so people see how other people negotiate completely different circumstances they may never have to deal with."
That has resonated with audiences in a profound way. "After I did the show in New York, a young actor in his 20s came up to me after the show, and he said, 'I feel like I've just spent an evening with Mr. Rogers explaining to me what it was like to be gay in the '80s.'" quips Rhodes. "Young people, straight and gay, don't know what it was like to grow up when homosexuality was illegal and then have it dovetail with a death sentence. So, sharing that history, and the tsunami of emotions connected with that period in history is something that younger people not only need to be aware of but gives them perspective on the freedoms they have today."
David Rhodes performs "Rhodes Less Traveled" on Saturday, May 6, 2023, 8 PM at The Moonshine Room, Club Café, 209 Columbus Avenue, Boston, MA. Tickets $30. For reservations click here .
Watch this clip of David Rhodes.
---
John Amodeo is a free lance writer living in the Boston streetcar suburb of Dorchester with his husband of 23 years. He has covered cabaret for Bay Windows and Theatermania.com, and is the Boston correspondent for Cabaret Scenes Magazine.