Gay Nashville: The Latest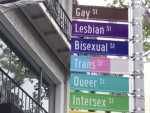 Happy Pride to New York's LGBTQ+ community!
A Chicago transwoman says that one of the Windy City's finest detained her last March 5 as she was walking along the street on her way home, drove her to an alley in a marked police car, and forced her to perform oral sex on him under threat of arrest.
"Queerdom," an exhibition showing at the Imperial Hotel in Erksineville, is an arresting and unsettling archive of queer and trans performances in Sydney.
If you're a red meat-eater, there's a good chance you're eating more of it than you should.
Two high school football players in Kearns, Utah, have been dropped "indefinitely" from their football team after a Snapchat post in which a Pride flag was burned while threatening anti-LGBTQ sentiments were voiced.
The Republican treasurer for Mobile County, Alabama is coming under fire for a now-deleted Facebook comment in which he said "freaking queers have gotten too much sympathy" — a remark he's refusing to apologize over.
Robust research shows that doctors are notoriously bad at delivering life-altering news.
Voluntary euthanasia became legal in an Australian state on Wednesday more than 20 years after the country repealed the world's first mercy-killing law for the terminally ill.
Netflix's show "Queer Eye" says it's bringing fabulousness to the masses for two more seasons.
The Democratic-controlled House voted Tuesday night to block President Donald Trump's move to restrict transgender men and women from military service.
Three Connecticut girls who have run high school track have filed a federal discrimination complaint saying a statewide policy on transgender athletes has cost them top finishes in races and possibly college scholarships.
The 1980 film failure that promised movie-goers the "musical event of the '80s" actually belonged in the late 1970s.
Trump blatantly exposed an upcoming enforcement operation, potentially jeopardizing the kind of sensitive effort that takes months to plan and relies on secrecy.
The head of Russia's MiG warplane manufacturer says his company is entering the drone market, and sees pilotless fighter jets as the future.
Tens of thousands of Americans each year are dropped by their insurers over payment issues, sometimes with little or no prior warning from their insurers.
If you've got some disposable income, and don't want to wait until your 40s or 50s to drive a fun car, Edmunds has picked out six vehicles under $30,000 that deliver driving excitement without breaking the bank.
A great deal could be written about barbecue, and much of it already has been. But this recent offering from the University of Georgia Press demonstrates there's clearly room for one more.
A recent study found lean white meat had the same effect on cholesterol levels as lean red meat. While this might be construed as good news by lovers of red meat, more research on this topic is needed for a clearer picture.

The International LGBTQ+ Travel Association Foundation (IGLTAF) and Airbnb have partnered together to release recently conducted survey results outlining travel trends for LGBTQ+ travelers in 2019.
A record number of people attended the 43rd Providence Pride Festival. With the Ladies from Ru Paul's Drag Race on stage, thousands turned out for this fun filled day.