Gay Nashville: The Latest
A man suspected of involvement in a mysterious dissident group's February raid on North Korea's Embassy in Madrid was arrested in Los Angeles by U.S. authorities.
Actress Anjelica Huston is supporting efforts to outlaw fur sales in the fashion mecca of New York.
London police say more than 710 people have been arrested and some 28 have been charged since climate change protests began earlier this week in the British capital.
Egyptians cast their ballots Saturday on the first of three days of voting on constitutional amendments that would allow President Abdel-Fattah el-Sissi to stay in power until 2030 and broaden the military's role.
Dolly Parton's Dollywood has welcomed a fluffy addition to the amusement park — an eaglet.
Adele and her husband Simon Konecki have separated. The pop singer's representatives Benny Tarantini and Carl Fysh confirmed the news Friday in a statement to The Associated Press.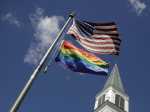 America's largest mainline Protestant denomination is on a path toward likely breakup over differences on same-sex marriage and ordination of LGBT pastors.
Special counsel Robert Mueller all but boldfaced this finding in his report on the Russia investigation: No exoneration for President Donald Trump on whether Trump criminally obstructed justice. That's not how Trump is spinning it.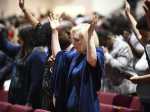 By now, most Democratic presidential candidates have polished their stump speeches. But when they're in South Carolina, they may need to add in a sermon.
President Donald Trump lashed out Friday at current and former aides who cooperated with special counsel Robert Mueller's investigation.
The legal threat to Trump that seemed so dangerous upon Mueller's appointment in May 2017 has waned.
A promotion around the movie "The Curse of La Llorona" using traditional Mexican healers for "spiritual cleansings" before screenings of the horror film is drawing strong criticism from healers and scholars who say the stunts are offensive and demeaning.
An Oregon county has agreed to pay $100,000 to a black employee who sued alleging she was harassed after asking that a Blue Lives Matter flag not be displayed in the office.
A British cybersecurity researcher credited with stopping a worldwide computer virus has pleaded guilty to developing malware to steal banking information.
Don't let any of these myths prevent you from making the most of available travel rewards.
Auto shows may be waning in importance as companies find other ways to introduce new products, but the New York International Auto Show still has a healthy list of new vehicle debuts.
Polo Ralph Lauren is reimagining its iconic Polo shirt with Mother Nature in mind. Introducing The Earth Polo, crafted from thread derived entirely from recycled plastic bottles and dyed in an innovative process that uses zero water.
Workplace wellness programs have become an $8 billion industry in the U.S. But a study published Tuesday in JAMA found they don't cut costs for employers, reduce absenteeism or improve workers' health.
Many if not most Americans have never crossed the U.S. border with Mexico by land or spent any time in that region. This unfamiliarity can make it easy for politicians to distort what's going on. Immersion travel is one solution.
DJ Brent Covington and DJ Taffy hosted a busy night at FUZZ @ The Alley Bar last Friday night. Check out who was there.