Top Story
Although the DC Capital Pride Parade was marred by an active shooter scare towards its end, the day was still filled with much celebration. The Pride Festival was rained on, but no...
1 thru 10 of 7291 Stories
"Queerdom," an exhibition showing at the Imperial Hotel in Erksineville, is an arresting and unsettling archive of queer and trans performances in Sydney.
The International LGBTQ+ Travel Association Foundation (IGLTAF) and Airbnb have partnered together to release recently conducted survey results outlining travel trends for LGBTQ+ travelers in 2019.
Transportation Security Administration screeners at Newark Liberty International Airport discovered six smoke grenades in a passenger's carry-on bag as he attempted to board a flight to the Dominican Republic.
The chief salesman for Airbus says his company already has the technology to fly passenger planes without pilots at all — and is working on winning over regulators and travelers to the idea.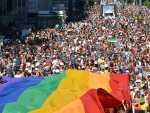 Feeling like there's so much to do, so little time, and not sure where to eat and drink before and after it all? Here are our top picks for some sweet spots in Times Square and it's delightful LGBTQ-friendly adjacent neighborhood, Hell's Kitchen.
A posh Northern California hotel was ordered to pay $1.6 million in penalties Thursday for failing to provide public access to its nearby beaches.
It's not just a pedestrian crossing. Located just outside Tokyo's Shibuya Station, it's one of the top tourist attractions in Japan.
A lucky few will be able to live the adventures of Phileas Fogg from Jules Verne's classic "Around the World in 80 Days."
Research has revealed just how much people's travel preferences could shift, and found a new potential challenge to the airline industry.
Starbucks and environmental charity Hubbub are launching a trial program to lend passengers at Britain's Gatwick Airport reusable cups while waiting for their flights in hopes of cutting down on waste.
1 thru 10 of 7291 Stories