Is Google Watching Your Every Porn-Surfing Move?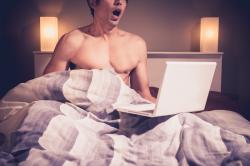 You might think that using "incognito" mode is a good way to secure a little privacy while seeing what's new in porn online, but that's not necessarily the case, a new study reveals.

An op-ed at The New York Times details how Google, Facebook, and other platforms can monitor a user's browsing habits using tracking technology.

This latest insight into the murky world of online surveillance is the result of a study undertaken by Microsoft and Carnegie Mellon. Researchers looked at over 22,000 porn sites in order to determine how pervasive the monitoring is, and found that Google alone tracks 75% of the sites they examined, a Forbes article noted.

The incentives for such tracking are self-evident, Forbes pointed out; "By some reckonings, porn-related traffic now accounts for almost one-third of all traffic," the article said.

Even though Google does not allow porn on its video platform YouTube, cnet explained, the study clarified that:

"...Google has no policies forbidding websites from using their code hosting (Google APIs) or audience measurement tools (Google Analytics). Thus, Google refuses to host porn, but has no limits on observing the porn consumption of users, often without their knowledge."

In other words, the sites themselves can exploit the coding of a platform to allow third parties to log what users are accessing — and 93% of the porn sites the study looked at did just that.

Study lead author Elena Maris told the Times that "These porn sites need to think more about the data that they hold and how it's just as sensitive as something like health information."
Kilian Melloy serves as EDGE Media Network's Assistant Arts Editor. He also reviews theater for WBUR. His professional memberships include the National Lesbian & Gay Journalists Association, the Boston Online Film Critics Association, The Gay and Lesbian Entertainment Critics Association, and the Boston Theater Critics Association's Elliot Norton Awards Committee.
Comments on Facebook