Top Story
Facebook already rules daily communication for more than two billion people around the world. Now it wants its own currency, too.
The head of Russia's MiG warplane manufacturer says his company is entering the drone market, and sees pilotless fighter jets as the future.
Facebook is getting a taste of the regulatory pushback it will face as it creates a new digital currency with corporate partners.
Two high school football players in Kearns, Utah, have been dropped "indefinitely" from their football team after a Snapchat post in which a Pride flag was burned while threatening anti-LGBTQ sentiments were voiced.
Court documents say the Delaware man indicted by a federal court for "swatting" incidents had engaged in a cross-country feud with a man he'd met on the phone and who had called in hoaxes about him before.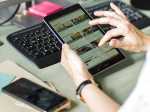 A growing number of services use technology to help reduce food waste.