1 thru 10 of 4472 Stories
Luxury small-ship tour operator Aqua Expeditions will launch its first-ever online culinary masterclass designed to bring gastronomic magic from across Aqua's destinations to Americans isolated at home.
The gimmick-free "America's Test Kitchen" is in its 20th season of expertly guiding viewers through well-vetted steps for savory sauces, perfectly grilled fish and flaky pie crusts, among the 1,000-plus recipes it has demystified to date.
A fried egg sandwich inspired by L.A.'s famous Eggslut restaurant.
This is a story about bosses and their workers, in the dark days of COVID-19. It's also a story about how one good turn deserves another and yet another.
Home bars have never been more well-stocked, but what to do with all of those spirits? Shake up a new recipe with one of these libations from some of the country's best bartenders and drinking destinations.
One bright spot is emerging from self-quarantine and mandatory working from home: In this nation that so often dines out or gobbles processed food on the run, Americans are cooking a whole lot more.
How long can the hospitality industry — restaurants, cafes, bars, diners, all the places that welcome people — survive in isolation?
Food Network star Marc Murphy offers an easy-to-follow recipe for comforting roast chicken.
Need some culinary inspiration this morning?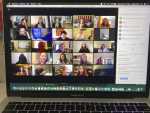 With bars shuttered and stressed-out workers stuck at home, companies and friend groups across the U.S. are holding happy hours over video chat to commiserate and keep spirits high.
1 thru 10 of 4472 Stories