Top Story
Gloria Vanderbilt, the intrepid heiress, artist and romantic, died Monday at the age of 95.
If you're a red meat-eater, there's a good chance you're eating more of it than you should.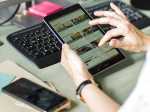 A growing number of services use technology to help reduce food waste.
Netflix's show "Queer Eye" says it's bringing fabulousness to the masses for two more seasons.
A great deal could be written about barbecue, and much of it already has been. But this recent offering from the University of Georgia Press demonstrates there's clearly room for one more.
Milan mainstays Fendi and Armani closed out four days of menswear previews on Monday, capping a lighter-than-usual program with some of the Italian fashion world's top labels altering their show rhythms.