The Fire Island Pines held it's annual Invasion on July 4th with a boat load drag queens and plenty of spectators.
San Francisco Pride got off to a late start due to protesters, but once the parade started, everyone celebrated the LGBTQ community and the 50th anniversary of Stonewall.
San Francisco Pride closed out 2019 Pride with the ultimate Pride gathering, called Under the Rotunda! The Grand Marshals interacted with guests as people enjoyed a cocktail party and appetizers.
Robert Vallin from Urban Bear Week NYC, organized an amazing cruise party. Attendees enjoyed more than three hours cruising around the city enjoying the beautiful sites and some great music from DJ Jonny Mack.
MasterBeat held its official World Pride main event, One World, at Hammerstein Ballroom, with DJ's Oscar Velazquez and Chus + Ceballos.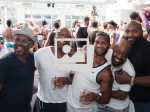 While there was an insane amount of parties to choose from throughout Pride weekend in NYC, Joe Fiore's Rüftop always has the right combination of great music, sexiness and fun.
Brooklyn hosted the World Pride NYC HustlaBall at Three Dollar Bill, with international DJ's and many adult performers presented by Anthony John and Fabrice Marino.
Over a million people came out to celebrate San Francisco Pride's "A Generation of Resistance". The crowd-packed Civic Center hosted over thirty stages, supported local businesses and non-profits, and celebrated the 50th anniversary of Stone Wall.
NYC Pride celebrated World Pride with Pride Island at Pier 97 Hudson River Park, with special guests Teyana Taylor, Grace Jones, Madonna and more.
SF Pride started with the Trans Rally and March. This year's theme was Our Home Our Sanctuary. The Trans community and their allies enjoyed motivational speakers & performers while meeting with local Trans friendly nonprofits before the march.