Two Pulse nightclub shooting survivors organized a march last Saturday to connect so-called "overcomers" of homosexuality. This takes place shortly after a petition has gained thousands of signatures to ban conversion therapy.
The Viaggio Estate and Winery, a popular Lodi, Calif. destination for wedding ceremonies and receptions, is facing controversy over a policy that it has recently changed about not allowing gay weddings in its facilities.
Boston's district attorney has asked Massachusetts' highest court to intervene in a dispute with a lower court judge over the arrest of counterprotesters during a "straight pride" parade in Boston over Labor Day weekend.
Was the Straight Pride Parade super, happy and fun?
Jeff Goldblum was feeling himself during New Orlean's gay party Southern Decadence over the Labor Day weekend and was recorded getting down to Normani's newest single "Motivation."
A "straight pride" parade and counter-demonstration went off in Boston Saturday without any major conflicts reported between the two groups.
The happy faces behind Super Happy Fun America aren't all that much fun and are pretty nasty to LGBTQ people.
Northern California city Modesto is one of the cities which may play host to a Straight Pride Parade... despite denying the group a permit. Organizers for the event attempted earlier this week to get a parade permit from city hall, but were refused.
A Northern California city has denied a request to hold a so-called Straight Pride rally at a park.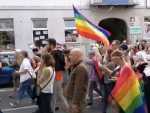 LGBT activists held a central Polish city's first pride parade without incident Saturday amid a deep divide in the country over gay and lesbian rights.