State Rep. Isaac Robinson was devoted to politics and Detroit, battling for decades on behalf of the city's underdogs until succumbing to its latest scourge: the coronavirus.
Singer-songwriter Jan Howard, who had a No. 1 country hit "For Loving You" with Bill Anderson and wrote hits for others like Kitty Wells' "It's All Over But the Crying," has died at age 91, according to the Grand Ole Opry.
Country singer Joe Diffie, who had a string of hits in the 1990s with chart-topping ballads and honky-tonk singles like "Home" and "Pickup Man," has died after testing positive for COVID-19. He was 61.
Krzysztof Penderecki, an award-winning conductor and one of the world's most popular contemporary classical music composers whose works have featured in Hollywood films like "The Shining" and "Shutter Island," died Sunday.
Actor John Callahan, known for playing Edmund Grey on "All My Children" and also starring on other soaps including "Days of Our Lives," "Santa Barbara" and "Falcon Crest," has died. He was 66.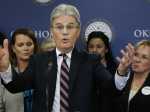 Former U.S. Sen. Tom Coburn was stubborn as a mule and conservative to his core.
Terrence McNally, one of America's great playwrights whose prolific career included Tony Awards for the plays "Love! Valour! Compassion!" & "Master Class" & the musicals "Ragtime"& "Kiss of the Spider Woman," has died of complications from COVID-19.
Nashom Wooden, also known as the iconic New York City drag queen Mona Foot, has died. Though the official cause of death has not been confirmed, Wooden's friend Geoffrey Mac, a fashion designer, said the performer died after being diagnosed with COVID-19.
Actor-singer Kenny Rogers died Friday night. He was 81.
Kathy Griffin took to social media this week to reveal that her mother Maggie Griffin has died. She was 99.