1 thru 10 of 6015 Stories
Brazil's autocratic president has announced that the government of that nation will no longer provide funds for movies with LGBTQ content.
New rules on gender identity at schools are causing a stir in Portugal, where some parents are expressing alarm that transgender children will be able to choose which bathroom they use.
Sexual violence carried out by Myanmar's security forces against the country's Muslim Rohingya minority was so widespread and severe that it demonstrates intent to commit genocide as well as warrants prosecution for war crimes and crimes against humanity.
Some Polish judges on Wednesday urged lawmakers to investigate an online hate campaign against some of them that was apparently encouraged by a deputy justice minister who has resigned over the allegations.
Iceland's leader has announced that she will skip U.S. Vice President Mike Pence's visit to her Nordic nation, opting instead to keep "prior commitments" by attending a trade union conference and meetings in Sweden.
A Hong Kong bakery is doing its part to support the city's pro-democracy protest movement by making mooncakes with a message.
Escalating an international spat , President Donald Trump said Wednesday he scrapped his trip to Denmark because the prime minister made a "nasty" statement when she rejected his idea to buy Greenland as an absurdity.
Despite promises by the socialist government to provide every woman access to family planning, recent surveys and interviews with health professionals indicate access to contraceptives remains incomprehensive.
President Donald Trump acknowledged his aggressive China trade policies may mean economic pain for Americans but insisted they're needed for more important long-term benefits.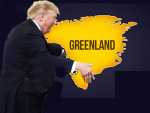 Two days after he said buying Greenland wasn't a top priority, President Donald Trump canceled an upcoming trip to Denmark, which owns the mostly frozen island, after its prime minister dismissed the idea.
1 thru 10 of 6015 Stories