Gay Nashville: The Latest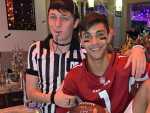 Adult performer Alex Riley has died, StrUpGayPorn.com reported>. The 22-year old passed away on Sunday, his longtime boyfriend and fellow performer Jacob Hansen tweeted on Thursday.
If you're a millennial or Gen Z, you may be laughing now, but it's no joke if you find yourself wincing in pain every time you hop in the sack.
Ellen DeGeneres told the world that she is quitting her daily talk show next year because she is looking to do something different. It had nothing to do with the charges of a toxic workplace environment that her management style contributed to, she said.
Equality advocates have taken note of the record-shattering number of anti-LGBTQ laws that have already been passed this year — and the situation is poised to worsen.
A London aquarium counts not one, but two same-sex penguin couples, as the new mating season gets underway — and both couples are all-female.
YouTube celebrity and beauty influencer James Charles has resurfaced on social media, claiming in a video posted to Twitter that he feels he is being "blackmailed" by a former employee who is suing him.
Instagram is rolling out a new feature in some countries that allow users to add their pronouns to their bio.
Rina Sawayama and Charli XCX are both teasing their involvement with a new remix album for Lady Gaga's latest effort, "Chromatica."
Model and author Chrissy Teigen has offered a public apology to non-binary singer-songwriter and media personality Courtney Stodden for comments she made a decade ago.
Imagine, if you will, a galaxy far, far away where the one-name fashion wonder Halston dresses Obi-Wan Kenobi in something fabulous from the swinging '70s. Ewan McGregor can. Sort of.
A sex education bill that was vetoed by Arizona's governor is being revived, with the sponsor keeping what she called "the heart" of the proposal, increased parental notifications, but stripping provisions specifically targeting discussion of LGBTQ issues
A 16-year-old "American Idol" contestant has dropped out of the singing competition after a video circulated of him sitting next to someone wearing what appears to be a Ku Klux Klan hood.
A table game such as poker has certain elements to its strategy that can then be reapplied to business scenarios.
Sc A potentially worrisome variant of the coronavirus detected in India may spread more easily. But the country is behind in doing the kind of testing needed to track it and understand it better.
Lemonade has turned wishful thinking into a reality with a technology-driven business model that makes acquiring various insurance types as easy as a few clicks, as well as a robust social action plan.

The U.S. government's auto safety agency is investigating multiple complaints about steering failures that could affect more than 1.1 million Honda Accord sedans.
According to new research, two in every three Americans will end their relationship if their pet doesn't approve.
Unequal access to gender-affirming health care, which occurs across state lines and socioeconomic divides, could cause two "classes" of transgender people in the United States to emerge.
The German government has agreed to let travelers who have been vaccinated against COVID-19 or recovered from infection avoid testing and quarantine when entering the country, unless they come from areas where variants of concern are prevalent.

The author of "Still Straight: Sexual Flexibility among White Men in Rural America" investigates why some men who identify as straight have sex with other men.