Gay Nashville: The Latest
The Wonder Wheel began turning and the Cyclone whipped into action as Coney Island's illustrious amusement parks reopened Friday after the coronavirus pandemic shuttered New York City's iconic summer playground all last year.
A jury has awarded $29.5 million to the family of a woman who was left brain damaged after being treated for a severe allergic reaction by an ambulance service in Las Vegas in 2013.
A desert city built on a reputation for excess and indulgence wants to become a model for restraint and conservation with a first-in-the-nation policy banning grass that nobody walks on.
China's top disease control official, in a rare acknowledgement, said current vaccines offer low protection against the coronavirus and mixing them is among strategies being considered to boost their effectiveness.
Public health experts cited many reasons for the difference, including that women make up three-quarters of the workforce in health care and education, sectors prioritized for initial vaccines.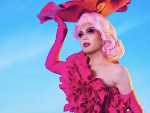 For most of this season, Rosé has been pitch-perfect — so much so that the judges wanted to see her unravel a bit to show more of her authentic self. Rosé listened and landed a spot in the finale but can she take the crown?
In "The Crown," a dishy naval officer captures the heart of a future queen. But he chafes at playing royal second fiddle and crosses the boundaries of decorum and, maybe, fidelity. He eventually finds his way as a trusted partner and family patriarch.
Gig-economy Western "Nomadland" won four prizes including best picture on Sunday at the British Academy Film Awards, which were handed out during a pandemic-curbed ceremony that recognized a diverse array of screen talent.
April is shaping up to be Brazil's darkest month yet in the pandemic, with hospitals struggling with a crush of patients, deaths on track for record highs and few signs of a reprieve from a troubled vaccination program.
The death of Prince Philip has left a "huge void" in Queen Elizabeth II's life, their son Prince Andrew said Sunday, as Princess Anne paid tribute to her father as "my teacher, my supporter and my critic."
It was supposed to be a unifying weekend for a Republican Party at war with itself over former President Trump's divisive leadership. But Trump shattered that in his closing remarks to the GOP's top donors when he insulted the party's Senate leader.
On "SNL" this week, the lesbian drama "Ammonite," starring Kate Winslet and Saoirse Ronan, got skewered in a skit called "Lesbian Period Drama."
Despite the strongest public support and the most sympathetic president in years, the American labor movement just suffered a stinging defeat -- again.
The United Arab Emirates named the next two astronauts in its space program Saturday, including the country's first female astronaut.
Unlike investment portfolios, annuities or pensions, Social Security is the only retirement income that is guaranteed for life and backed by the full faith and credit of the United States government.
Edmunds' experts have compiled a list of five SUVs that come in a variety of sizes and have unusually low starting prices for their competitive segments.
EDGE leaps across the Atlantic to discover some of our favorite European skincare brands that can enhance your glow, boost confidence, and launch you back into the world of the living.
As many as 60 countries, including some of the world's poorest, might be stalled at the first shots of their coronavirus vaccinations because nearly all deliveries through the global program.
Finally, after bleak winter months of a coronavirus lockdown, springtime shoots of hope emerged Friday as restrictions were relaxed at a Dutch flower garden and other public venues.
During Boston's annual Gay Pride Parade in June, these establishments are much busier than normal. Here are the top 5 LGBTQ bars in B-town.