Rapid antigen testing is another line of defense against COVID-19, but when and where should it be used?
Booster shots to extend the protection of COVID-19 vaccines may be unnecessary for many people, a leading scientist behind the AstraZeneca vaccine said on Friday.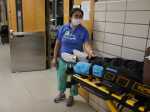 The World Health Organization last month listed it as a "variant of interest" because of concerns it may make vaccines and treatments less effective, though more evidence is needed.
Is it safe to go to a packed stadium even if you are vaccinated? Six out of the seven public health experts that KHN spoke to from big football states were adamant in their response: No way. Not now
The CDC began advising travelers who are at a higher risk for severe COVID-19 illness to avoid cruises. It is also recommending that passengers show both a recent negative COVID test and proof they've been immunized.
For full approval, the FDA required six months of follow-up data. FDA inspectors also visited the plants where the vaccines are made and reviewed each step of the production process for extra assurance.
The U.S. gave full approval to Pfizer's COVID-19 vaccine Monday, potentially boosting public confidence in the shots and instantly opening the way for more universities, companies and local governments to make vaccinations mandatory.
The Biden administration's plans to make COVID-19 booster shots available next month has drawn a collective scream of protest from the scientific community.
So what do we know about whether healthy, fully vaccinated people should get a booster? Here are answers to seven key questions.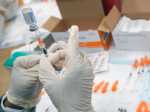 U.S. health officials may soon recommend COVID-19 booster shots for fully vaccinated Americans. A look at what we know about boosters and how they could help fight the coronavirus.