"We only have information for as long as the vaccines have been studied," said Deborah Fuller, a vaccine researcher at the University of Washington.
For people suffering with lingering, debilitating symptoms months after a bout with COVID, pinning down a definition for long covid may seem pointless. They just want relief.
The need for masks continues to be a contentious issue. As the federal government doubles down on their importance, some states have thrown caution — and face coverings — to the wind.
Don't panic. U.S. health officials on Tuesday recommended pausing vaccinations with J&J's shot as they look into reports of six clots out of nearly 7 million doses given in the country.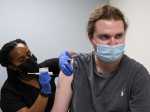 Dozens of Americans are rolling up their sleeves for a third dose of COVID-19 vaccine -- this time, shots tweaked to guard against a worrisome mutated version of the virus.
The U.S. is recommending a "pause" in administration of the single-dose Johnson & Johnson COVID-19 vaccine to investigate reports of potentially dangerous blood clots.
people who didn't test positive for COVID face difficulty getting treatment and disability benefits. And, sometimes as aggravating, many find that family, friends or even doctors have doubts they contracted COVID at all.
for the athletes participating in professional, collegiate, high school or even recreational sports, significant unanswered questions remain about the aftereffects of a covid infection.
The new deadline of April 19 is about two weeks earlier than Biden's original May 1 deadline.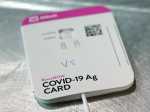 U.S. health officials have authorized two more over-the-counter COVID-19 tests that can be used at home to get rapid results.