Review: 'Together Together' is about Aloneness and Fleeting Connection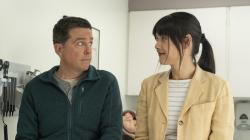 Writer-director Nikole Beckwith's "Together Together" is one of those moviesforged in the Woody Allen vein, built around awkward moments and a constant sense of insecurity. It also has a certain self-conscious Allen-esque style, from the font used in the title card to the low-key pacing and line delivery. What it lacks, though, is Allen's fatalistic wit and acid one-liners. The best joke in the film is, not coincidentally, when the main characters rip on Woody Allen.

Single (and presumably straight) 40-something Matt (Ed Helms) has decided he's had enough of the in-between place he'd been inhabiting. Neither partnered nor happily alone, Matt has no other prospect in sight for fatherhood and family, so he decides to got the surrogate route. He's got the money for this project; evidently, he's made a fortune on an app called "Loner," a sort of Tinder for people so desperate they'll settle for friends without benefits.

The film opens on Matt's interview with prospective surrogate Anna (Patti Harrison), a barista in her mid-twenties who's estranged from her family and, like Matt, has no life partner. Given her circumstances, Anna doesn't see why she should make a bigger deal of carrying Matt's child than is necessary. She's a stone-cold realist about the situation, and has no plans for being part of Matt's, or the child's, life. Still, when Matt wants her input into painting the nursery she accommodates him; when he throws a baby shower, she attends.

Though hardly a rom-com in the traditional sense, "Together Together" does celebrate a kind of bond that more people might now be familiar with than in times past. The film doesn't quite know how to put that across, except to introduce a Gay Best Friend in the form of Jules (Julio Torres). A fount of witless wisdom, Jules' utterances are sometimes weird and specific (as when he complains about someone who doesn't appreciate the "tumble dry low" setting on a dryer) and sometimes just weird. He does, however, voice the film's central message - that an intimate bond is worth celebrating, even if it's unusual or fleeting. (Having served his purpose, Jules vanishes once he's given this thought voice.)

Beckwith is determined not to allow the film to fall into what could be thought to be an age-inappropriate love match, which is commendable, but while she knows precisely what she wants the film not to be, she doesn't seem to be entirely certain what the movie should be. Not only is there no romance, but the film has little comedy. It's a low-key, more or less even-keeled movie, and its witticisms don't prompt much more than a smile. (Example: After giving Matt a lesson in how to explain tampons - just in case the kid turns out to be a girl - Anna asks, "How embarrassing was that?" When Matt allows that the lesson was mortifying, Anna tells him that's why he'll remember it when the time comes.)

So placid is the movie that the dramatic elements feel subsumed and suffocated. Matt has no sense of boundaries; Anna resists his urge to control her, but then, feeling vulnerable, allows him to encroach. The fireworks sputter before they're even properly deployed. Even Tig Notaro (as a therapist that both see in preparation for Matt's impending fatherhood) seems to have had her usual cutting edges sanded off. One notable exception to the film's determination to stifle its laughs is the ultrasound technician, played by Sufe Bradshaw. Upon overhearing Matt and Anna's debates over whether Anna should be hooking with with guys while pregnant, she offers her own "off-the-record" expertise before noting: "I know everything; I'm just not allowed to say it."

Fundamentally, this is a study of aloneness (its validity as a choice in life, but also its costs) and the inherently temporal nature of anything more. That's certainly an Allen-esque topic, which could have a lot to do with the film's style. However, once the movie's final scenes unspool, the audience is likely to feel the way Anna knows she'd be wise to: Thanks, that was nice, and now I'm going to forget all about it.


"Together Together" plays in theaters starting April 23.
Kilian Melloy serves as EDGE Media Network's Associate Arts Editor and Staff Contributor. His professional memberships include the National Lesbian & Gay Journalists Association, the Boston Online Film Critics Association, The Gay and Lesbian Entertainment Critics Association, and the Boston Theater Critics Association's Elliot Norton Awards Committee.
Comments on Facebook