Review: 'Kaye Ballard - The Show Goes On!' is a Glowing Profile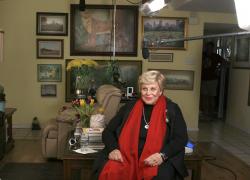 We're not sure exactly when filmmaker Dan Wingate started filming "Kaye Ballard - The Show Goes On!," a very affectionate profile on the late, great show business luminary in which a number of other stars who have also passed on line up to sing her praises. They include Carol Channing, Jerry Stiller, Hal Prince and Liz Smith.

Kaye Ballard had a long and successful career as a comedian, actress, Broadway star, singer, and nightclub performer which lasted until her death last year at age 93. Despite her enormous talent and the unanimous respect of the industry, being a headlining A-List star somehow eluded her. However, judging by her passion and zest for life as she recounts her career to the camera, there is not one single hint of regret.

Wingate's film, which follows Ballard's career chronologically, is full of surprises that even ardent fans of hers are probably unaware of. But even more importantly, it introduces this remarkable woman to an audience that may not have heard of her yet. You will notice, though, that she has all the qualifications and attributes to be declared a gay icon.

Ballard was extremely pretty, with unceasing energy and a passion for life. Rex Reed comments at one point that her misfortune was that she was so multi-talented that no one knew which direction in which to focus her career. It never stopped her working, and reading her lengthy resume you will be shocked how much she squeezed into her life. Like others, you may not even remember seeing some of her very many performances, such as in the gay cult classic movie "The Ritz." 

Ballard was the first actress to ever play Rose in "Gypsy the Musical" (before Ethel Merman got a Tony Nomination on Broadway). Songwriters loved to compose songs for her such as John Kander and Fred Ebb wrote "Maybe This Time," which later Liza Minnelli wrongly claimed as her own. 

Ballard was equally at home in TV on shows like "The Perry Como Show," "The Mothers-in-Law," and "The Doris Day Show." Or on the NY stage in "The Golden Apple," Joseph Papp's "The Pirates of Penzance," and "Carnival!"

She did confess, however, that her real love was performing in cabaret. Ballard had started her career performing in NY's finest, The Bon Soir and The Blue Angel, and, at the end, her one-woman revue in California.

Ballard didn't just collect friends, she kept them for years and years. Wingate has a whole stream of them eagerly testifying to their relationships with her. They included Carol Burnett, Donna McKechnie, Peter Marshall, Joy Behar, Carole Cook, Mimi Hines, Ann-Margret, Michael Feinstein and Rex Reed. The only thing missing was any mention of Ballard's personal life. From Wikipedia, we read she was engaged four times but never married. 

This glowing profile would have been more complete if we knew that the woman who made the world a happier place also found her own happiness at home.  

It's a sheer joy remembering a remarkable talent and a wonderful lady.
Roger Walker-Dack, a passionate cinephile, is a freelance writer, critic and broadcaster and the author/editor of three blogs. He divides his time between Miami Beach and Provincetown.
Comments on Facebook