Review: 'House of Cardin' is an Eye-Opening Gem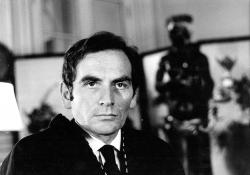 Pierre Cardin is an unsung hero. This pioneering design genius has too often been ignored or dismissed by a coterie of traditional fashion elitists who disliked Cardin for having the temerity of being the very first Haute Couturier to create a ready-to-wear line back in 1959. It resulted with Cardin being expelled from the Chambre Syndicale, although they eventually did let him back in.
Now his reputation is about to be restored as his genius is recognized and celebrated in an exhilarating new documentary by husband and husband filmmakers P. David Ebersole and Todd Hughes. It's been made with the full cooperation of the 97-year-old Cardin, who appears somewhat frail on the screen but still shows his wit has not dimmed in the slightest.
Italian/French by birth, even as a young child Cardin dreamed of being a dressmaker. At age 17 he became tailor's apprentice in Vichy, and throughout World War II he made clothing for the Red Cross. When the War ended and he moved to Paris at the age of 23, he got work at the fashion house of Paquin, then Elsa Schiaparelli, and in two years he was the head of Christian Dior's tailleure atelier.
It wasn't just a case of being in the right place at the right time, as M. Dior himself was so impressed with his young protege he helped Cardin found his own house in 1950. Only three years later, he launched his own first haute couture collection.
However, just nine years later, Cardin was labelled a young upstart when he launched a ready-to-wear collection for the Printemps Department Store in Paris. Most fashion history books credit Yves St Laurent with being the first to diversify like this, but in fact Cardin beat him by nine years.
This would be the beginning of many groundbreaking firsts that Cardin would establish in his career. He started taking his fashion to Japan as early as 1959; he was the very first designer to license himself as a brand; he opened his own Theatre Espace Cardin, not just for his runway shows but also for the performing arts; he redesigned Philippines national costume; designed outfits for NASA and uniforms for Pakistan Airlines; and opened his own furniture store in Rue du Faubourg-Saint-Honore. There seemed to be nothing he couldn't apply his very stylized designs too, and doing so proved he had quite the Midas touch with them all.
As well as an impressive wealth of archival footage showing Cardin throughout the years that the filmmakers had been very fortunate to get their hands on, there are a lot of talking head interviews with colleagues who have been working with him for decades. Also featured are fashion experts and celebrity customers, and even models such as Naomi Campbell, plus designers Jean Paul Gaultier and Phillipe Starck, who both got their first breaks working for Cardin. Each and every one is happy to acknowledge how Cardin's designs have made such an enormous and powerful impact on both the fashion industry and the world at large, and also point to the fact that this frail nonagenarian is such an old-school charming gentleman.
This is the man who very few people know was once refused entry to Maxims in Paris for not wearing a tie, so he bought the famous restaurant and made it into a worldwide chain. And he is the same man who brought the old ruins of the Marquis de Sade's castile and turned it into a performing arts centre for the arts.
Cardin was known for his very public relationship with actress Jeanne Moreau, but the real love of his life was Andre Oliver, who was also his personal assistant until he died of AIDS in 1993 at the age of 81.
Ebersole and Hughes don't even attempt to hide their passion for making this long-overdue profile of a man that many of us had heard of, but very few really knew who about. They make us appreciate how his design aesthetic, always years ahead of its time, has shaped so many creative disciplines, and for which Cardin has never really been credited or even acknowledged.
This eye-opening gem of a movie — which was nominated for a Queer Lion at the Venice Film Festival — will change that once and for all.
Roger Walker-Dack, a passionate cinephile, is a freelance writer, critic and broadcaster and the author/editor of three blogs. He divides his time between Miami Beach and Provincetown.
Comments on Facebook