Gay Nashville: The Latest
Chefs across the Midwest, Great Plains, and other heartland states are rocking the culinary arts in their hometowns and beyond. Here are seven stellar LGBTQ chefs who are making unforgettable food in non-coastal, ever-delicious cities.
The NIH is putting the rubber to the road in a new study that will see mobile clinics deployed to test and treat opioid users who inject drugs intravenously.
This spring, the Republican-led Montana Legislature passed a bill signed by Republican Gov. Greg Gianforte that once again requires a court order to change a birth certificate.
The Centers for Disease Control and Prevention director Rochelle Walensky says she expects the delta variant will become the dominant coronavirus strain in the United States. The delta variant, first detected in India, has become dominant in Britain.
The Supreme Court's latest rejection of a Republican effort to dismantle "Obamacare" signals anew that the GOP must look beyond repealing the law if it wants to hone the nation's health care problems into a winning political issue.
The U.S. Department of Justice on Thursday challenged bans involving transgender people that target athletes in West Virginia and children in Arkansas, slamming them as violations of federal law.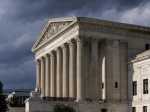 Governmental entities are on notice that if they want to ban discrimination against LGBTQ persons or anyone else, they must not allow for any exceptions, or else religious groups will have the right to ask for them and have a strong case for getting them.
For a few hours last weekend, thousands of Donald Trump's supporters came together in a field under the blazing Wisconsin sun to live in an alternate reality where the former president was still in office — or would soon return.
A man was arrested Thursday for purposefully damaging a new LGBTQ pride crosswalk at a South Florida intersection, police said.
Ahead of a June 20 encore presentation on Lifetime of her movie filmed in Michigan, "Prayers for Bobby," Sigourney Weaver shared why the topic of LGBTQ suicide prevention is "still as relevant as ever."
France on Wednesday eased several COVID-19 restrictions, with authorities saying it's no longer always mandatory to wear masks outdoors and halting an 8-month nightly coronavirus curfew this weekend.
Stephanie Lamorre's heart-touching documentary on Two-Spirit teenager Sherente Misihitasin is a welcome contribution to the burgeoning dialogue about the transgender community.
Carnival Corp. said Thursday that a data breach in March might have exposed personal information about customers and employees on Carnival Cruise Line, Holland America Line and Princess Cruises.
There are still industries that invest heavily in their websites so that people with limited device space and those who prefer to carry out tasks in a simpler manner have that option.
A new platform, created in partnership with SAGE and LifeCents and supported by the Wells Fargo Foundation, is helping LGBTQ elders reduce financial stress and rethink how to budget and strategize for the future.

Leasing a car now provides a number of advantages over a traditional financed purchase. To start with, you don't have to put as much money down.
A Colorado baker who won a partial victory at the U.S. Supreme Court in 2018 for refusing to make a wedding cake for a same-sex couple violated the state's anti-discrimination law by refusing to make a birthday cake for a transgender woman.
Join self-proclaimed workhorse queen and celebrity housewife Mrs. Kasha Davis for an intimate conversation about the power of drag and overcoming addiction.
France's tourism sector is taking a further step toward normality with the reopening of Disneyland Paris, two weeks after the country reopened its borders to vaccinated visitors from across the world.
Shawn Paul Mazur and Matthew Blue presented New York City's longest running Sunday Rooftop party at the Monarch Bar in Midtown, with great music by BJ DJ Dawson and the amazing Queen host Skye Walker.