Review: 'Bloodthirsty' Gives the Werewolf Genre Renewed Bite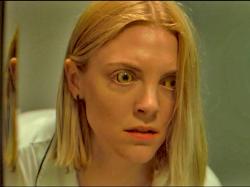 A dramatic twist on the werewolf tale, Amelia Moses' "Bloodthirsty" offers compelling lead characters that keep us glued to the screen while we wait for the carnage to begin.

Singer-songwriter Grey (Lauren Beatty) and her artist girlfriend Charlie (Katharine King So) are headed to the palatial estate of prolific, but infamous, producer Vaughn (Greg Byrk). Having been charged with the murder of a girl he was mentoring (but not having been found guilty), he is notorious for taking new talent under his wing and making them superstars — but, given his past, the two are primed to be careful.

Vaughn is an odd duck, but he's good at what he does and brings the best out of Grey (whose songs and singing voice are by singer Lowell). Because he is trying to connect with her, he eventually pulls her away from Charlie, who has decided to use the time away to paint. But she's not all that thrilled with the alone time between Grey and Vaughn and finds the entire situation unsettling.

Meanwhile, Grey — who suffers hallucinatory episodes and takes medication — is told to go off her meds so her songwriting will be more honest. This brings up violent, animalistic visions that not only haunt her, but inspire her.

The film is best explored on your own from here, but suffice to say that there are connections and allegories all over the place, and it deftly mixes familial and social drama with the supernatural.

Moses is great with her actors (Beatty is especially terrific), and creates a very specific feel to the environs Grey and company interact in. She keeps you on edge with who is to be trusted and what the potential outcomes might be to Grey's newfound musical prowess.

The songs by Lowell are quite beautiful, and half of the joy of this film is the music. This isn't a film that will have you afraid to turn off the lights, and any transformations are kept fairly minimal, but it's an engrossing preternatural drama that adds a nice female twist to the Lycan mythos.


"Bloodthirsty" will be in select theaters and On Demand April 23rd.
Kevin Taft is a screenwriter/critic living in Los Angeles with an unnatural attachment to 'Star Wars' and the desire to be adopted by Steven Spielberg.
Comments on Facebook