Top Story
YouTuber Elijah Daniel is new mayor of Hell. His first act? Renaming the town Gay Hell in honor of Pride month.
1 thru 10 of 48394 Stories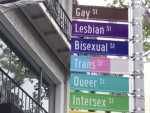 Happy Pride to New York's LGBTQ+ community!
A Chicago transwoman says that one of the Windy City's finest detained her last March 5 as she was walking along the street on her way home, drove her to an alley in a marked police car, and forced her to perform oral sex on him under threat of arrest.
Two high school football players in Kearns, Utah, have been dropped "indefinitely" from their football team after a Snapchat post in which a Pride flag was burned while threatening anti-LGBTQ sentiments were voiced.
The Republican treasurer for Mobile County, Alabama is coming under fire for a now-deleted Facebook comment in which he said "freaking queers have gotten too much sympathy" — a remark he's refusing to apologize over.
Voluntary euthanasia became legal in an Australian state on Wednesday more than 20 years after the country repealed the world's first mercy-killing law for the terminally ill.
The Democratic-controlled House voted Tuesday night to block President Donald Trump's move to restrict transgender men and women from military service.
Three Connecticut girls who have run high school track have filed a federal discrimination complaint saying a statewide policy on transgender athletes has cost them top finishes in races and possibly college scholarships.
LGBT refugees allege they have been harassed by police in recent weeks in Kenya, which is a rare regional haven for the gay community and yet maintains that gay sex is illegal.
Many World Cup teammates have special bonds. The tie that binds U.S. defender Ali Krieger and American goalkeeper Ashlyn Harris is among the strongest at the tournament.
Joe Biden paid a visit Tuesday to the Stonewall Inn ahead of the 50th anniversary of an uprising that helped spark the gay rights movement.
1 thru 10 of 48394 Stories