WalletHub has just released its Best Frequent Flyer Report for 2019. Who came out on top? Delta SkyMiles.
Gay vlogger JustJoeyT shares an insider's look at Atlantis' latest cruise.
With the recent influx of companies like Google and Uber and some trailblazing cookery in the Lawrenceville gayborhood, Pittsburgh fare is getting national attention. Here's your ultimate must-eat list.
Is all the buzz true? EDGE sent our travel editor to check out Celebrity's latest ship, which also happens to share our name. No relation, but just as cool!
White Party Palm Springs celebrates its 30th anniversary this spring in the ultimate desert oasis.
An all-male underwater burlesque show? Your dreams have come true, thanks to MeduSirena's Aquanauts, who arrive this February at B Ocean Resort.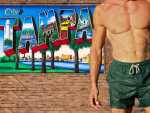 Charming hotels, bustling restaurants, LGBTQ-friendly nightlife, and — of course — plenty of waterfront activities make this Gulf Coast destination a must-visit getaway.
Many visitors to Sedona come looking for something in addition to its beauty. Native American legend recounts a spot where the earth's energy is supposedly concentrated and crackling. The vortex.
YouTube travel vlogger Logan Ly and his boyfriend head to India for an adventure of a lifetime.
The Japan National Tourism Organization announced that more than 30 million overseas travelers visited Japan in 2018, an all-time record.