President Donald Trump held up and read from a sheet of paper in the Rose Garden this past week as he argued he's been hounded by investigators in the Russia probe for no reason.
An autistic man walks out of a store without paying for a toy he picked up. He's followed by a storekeeper demanding he come back inside. The situation quickly escalates, and police are called.
Americans generally do not have enough saved for retirement and Congress is considering a number of measures to address that.
President Donald Trump opened a state visit to Japan on Saturday by needling the country over its trade imbalance with the United States. "Maybe that's why you like me so much," he joshed.
Pope Francis said Saturday that abortion can never be condoned, even when the fetus is gravely sick or likely to die, and urged doctors and priests to support families to carry such pregnancies to term.
About 70,000 of Zimbabwe's estimated 16 million people are born with albinism, according to government figures. They often stand out, making them a subject at times of discrimination, ridicule and dangerously misguided beliefs.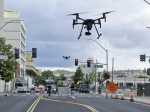 NASA has launched the final stage of a four-year effort to develop a national traffic management system for drones, testing them in cities for the first time beyond the operator's line of sight.
Concerns about climate change have prompted mass protests across Europe for the past year. For the first time, the issue is expected to have a significant impact on this week's elections for the European Parliament.
The geographic locations where Americans live are shifting in ways that can negatively affect the quality of their drinking water.
Facebook removed more than 3 billion fake accounts from October to March, twice as many as the previous six months, the company said Thursday. Nearly all of them were caught before they had a chance to become "active" users of the social network.