Top Story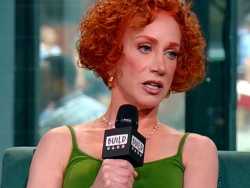 As if fallings out and feuds with CNN's silver fox and the president of the United States weren't enough, Griffin is also on the outs with lesbian comic Ellen DeGeneres. ...
1 thru 10 of 1914 Stories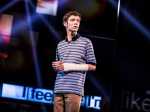 Few musicals bond so immediately with its audience as "Dear Evan Hansen," the sensational musical that has developed into a cultural sensation.
This is a play for everyone. Even the younger set in the audience were guffawing and giggling throughout. This is a terrific night at the theatre and will have you walking out on a silly high.
Tammie Brown made an impression on the first season of "RuPaul's Drag Race," and hasn't stopped since. EDGE spoke to the drag star about her summer-long residency in Provincetown where she has brought her show.
This past Tuesday, the nearly sold out audience at the Emerson Colonial Theatre was roaring with laughter every few minutes, that is when they weren't enrapt with the beautiful singing coming from the stage in "A Conversation with Jessie Mueller."
AOC's appearance at a drag show at the McKittrick Hotel in New York City just might cause a few conservative heads to explode. Her words to the crowd? "You are beautiful. You are accepted."
As a famous ad once asked, what becomes a legend most? In the case of Katharine Hepburn, the cantankerous Hollywood survivor, it wasn't posing in a Blackglama fur, rather it turns out to be paid homage by another Hollywood survivor: Faye Dunaway.
Aryeh Nussbaum Cohen's improbable career has brought him rapidly to the brink of operatic stardom at age 25. So it's not surprising that the Brooklyn-born countertenor would fall prey to feeling a "kind of impostor syndrome" when he walked on stage.
Matthew Lombardo had his first success with "Tea at Five" in 2002; now he's back with his Katharine Hepburn one-person play, this time with Faye Dunaway. With one Hollywood legend playing another, what has the experience been like for Lombardo?
The Pulitzer Prize-winning librettist Mark Campbell received a note in late February 2018 from the general director of the New York City Opera: "I may have a project for you, but you have to write quickly."
Most people attending "Convention" know how things end, but the journey there is a fascinating and funny history lesson.
1 thru 10 of 1914 Stories