1 thru 10 of 2566 Stories
The Miss World America organization has stripped its Michigan pageant winner of her title, which she says was because of tweets she made about Muslims and blacks.
The New Republic pulled queer writer Dale Peck's piece criticizing Pete Buttigieg for being homophobic. But was it? (You can read it here.)
Actress Sally Field and the long-running children's TV show "Sesame Street" are in the latest class of Kennedy Center Honors recipients.
Berkeley, California, has adopted an ordinance to replace some terms with gender-neutral words in the city code.
Is a peek into the future worth your privacy in the present? That concern was pushed to the spotlight this week with the resurgence of a smartphone app that uses artificial intelligence to transform your current face into your younger and older selves.
Dust off your Captain Marvel cosplay, San Diego Comic-Con is here.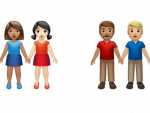 Apple and Google are rolling out dozens of new emojis that of course include cute critters, but the tech giants also continue to push the boundaries of inclusion and diversity.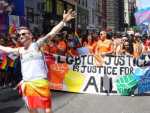 2019 has been a great year for Pride festivals and parades nationwide, many of which commemorated the 50th anniversary of the Stonewall Uprising. Check out our roundup of EDGE coverage and photo albums from this year's events so far!
Barbie has been many things over the years. Now, she's dressed as Ziggy Stardust.
The New Republic published, then pulled, an op-ed piece by out writer Dale Peck after a widespread public outcry and accusations of homopobia, it was reported by Talking Points Memo.
1 thru 10 of 2566 Stories