Top Story
The Provincetown Film Festival ended its 21st edition on Sunday night at the Pilgrim House. See who came out.
The 1980 film failure that promised movie-goers the "musical event of the '80s" actually belonged in the late 1970s.
"Queerdom," an exhibition showing at the Imperial Hotel in Erksineville, is an arresting and unsettling archive of queer and trans performances in Sydney.
Michael Barnett's fierce, beautiful, hopeful documentary about transgender teen athletes.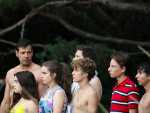 Sébastien Marnier's film adaptation of Christophe Dufosse's novel "L'Heure de la sortie" — or, in English, "School's Out" - is a thriller that unfolds in a prestigious school and among an elite cadre of gifted students.
Robert Clift's documentary about his uncle Monty brushes past biases and stereotypes to arrive at a fuller, and happier, portrait of the celebrated actor - and meditates on the stories we tell, and the stories we're ready and able to hear.