1 thru 10 of 3060 Stories
A dozen Democrats seeking the presidency tussled Tuesday night in a debate packed with policy, flubbing some details in the process.
European Union and British negotiators failed to reach a breakthrough in Brexit talks during a frantic all-night session and will continue seeking a compromise on the eve of Thursday's crucial EU summit.
Jury selection is scheduled to begin Wednesday in the first federal trial over the opioids epidemic.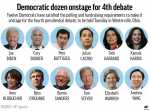 A dozen Democratic presidential candidates will meet on Tuesday for the most crowded presidential debate in modern history. The three front runners face the most intense spotlight.
If Roland Henry had died in a different part of the country, his organs might have been recovered. And lives could have been saved.
California Gov. Gavin Newsom on Friday signed a law that will make the state the first to allow employers, co-workers and teachers to seek gun violence restraining orders against other people.
Germany's security services said Tuesday they're seeking greater powers to fight the kind of far-right extremism behind last week's synagogue attack, including requiring internet companies to report illegal hate speech to police.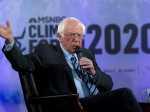 Bernie Sanders has released a major proposal to "end corporate greed and corruption" by requiring large companies to give ownership stakes to their workers.
It was a week of caustic rhetoric by President Donald Trump over Syria and the impeachment inquiry, and truth often took a beating.
From Minnesota to Vermont, at least five states and Washington, D.C., have done away with Columbus Day celebrations in deference to Native Americans, though the federal Columbus Day remains in place.
1 thru 10 of 3060 Stories