Top Story
President Donald Trump is threatening to remove millions of people living in the country illegally on the eve of formally announcing his re-election bid.
1 thru 10 of 12869 Stories
Trump blatantly exposed an upcoming enforcement operation, potentially jeopardizing the kind of sensitive effort that takes months to plan and relies on secrecy.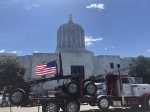 Oregon is on the precipice of becoming the second state after California to adopt a cap-and-trade program, a market-based approach to lowering the greenhouse gas emissions behind global warming.
More than four years after Congress required the Department of Justice to assemble information about those who die in police custody, the agency has yet to implement a system for collecting that data.
President Donald Trump officially kicked off his reelection campaign Tuesday with a grievance-filled Florida rally that focused more on settling scores than laying out his agenda for a second term.
A survivor of the Parkland school shooting announced Monday that Harvard University withdrew his admission over racist comments he made in a shared Google Doc and text messages nearly two years ago.
Police Chief Jeri Williams promised change in her department after being booed by some of hundreds of people gathered Tuesday night to discuss a videotaped police encounter that has caused a national outcry.
A record 71 million people have been displaced worldwide by war, persecution and other violence, the U.N. refugee agency said Wednesday, an increase of more than 2 million from last year.
The photo shows a decorated Navy SEAL holding up the head of a dead Islamic State fighter by the hair while clenching a knife in his other hand.
A man fatally shot in a Southern California Costco store was mentally ill and off his medication when he pushed or slapped an off-duty police officer who then opened fire, the lawyer for the man's family.
When President Donald Trump's internal polling suggested he was trailing Democrats in crucial states, an infuriated Trump and his aides first disputed the poll's existence, then tried to dismiss its importance before finally firing some of the pollsters.
1 thru 10 of 12869 Stories